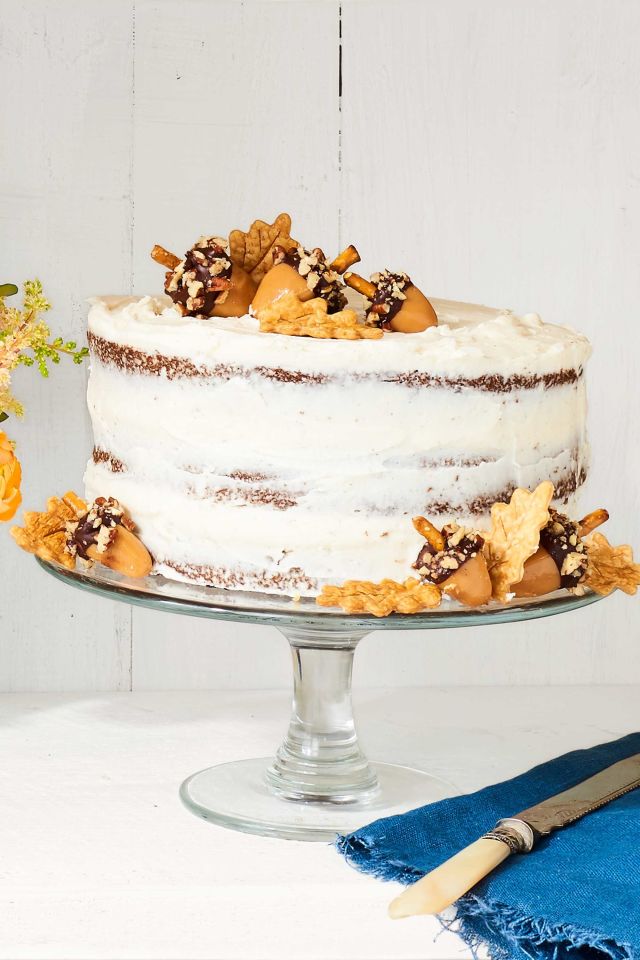 Ingredients
Cooking spray
3 c. all-purpose flour, spooned and leveled, plus more for pans
1 1/2 tsp. Kosher salt
1 tsp. baking powder
1 tsp. baking soda
1 tsp. ground ginger
1 tsp. ground cinnamon
1 tsp. ground cardamom
1/4 tsp. ground cloves
1/4 tsp. ground nutmeg
1 c. unsalted butter, at room temperature
1 c. packed light brown sugar
3 large eggs
1 c. unsulphered molasses
1 1/4 c. Buttermilk
Cinnamon-Cream Cheese Frosting
8 oz. cream cheese
1/2 c. (1 stick) unsalted butter, at room temperature
1 1/2 tsp. pure vanilla extract
1/2 tsp. Kosher salt
1/4 tsp. ground cinnamon
5 c. confectioners' sugar
Caramel Acorns and Piecrust Leaves
Packaged caramels
Dark chocolate, melted
Pretzel sticks
Pie dough scraps
Directions
Preheat oven to 350°F. Grease and flour 3 (8-inch) round cake pans; line with parchment paper, and grease paper.
Make the Cake: Whisk together flour, salt, baking powder, baking soda, ginger, cinnamon, cardamom, cloves, and nutmeg in a bowl.
Beat butter and brown sugar on medium speed with an electric mixer until light and fluffy, 1 to 2 minutes. Add eggs, one at a time, beating until incorporated after each addition. Beat in molasses. Reduce mixer speed to low and beat in flour mixture and buttermilk alternately, beginning and ending with flour mixture, just until flour is incorporated. Divide batter among prepared pans.
Bake until a toothpick inserted in centers comes out clean, 30 to 35 minutes. Cool in pans on wire racks for 10 minutes, then invert onto wire racks to cool completely.
Make the Frosting: Meanwhile, make Cinnamon-Cream Cheese Frosting: Beat cream cheese, butter, vanilla, salt, and cinnamon on medium speed with an electric mixer until smooth, 2 to 3 minutes. Gradually beat in confectioners' sugar, scraping down bowl as needed, until well blended and smooth.
Frost Cake: Place one layer on a cake plate and frost top with 3/4 cup frosting. Repeat two more times. Add a thin layer of frosting to sides.
Make Caramel Acorns and Piecrust Leaves: Shape packaged caramels into acorns. Dip tops of acorns into melted dark chocolate. Coat chocolate in finely crushed stick pretzels. Insert a 3/4″ piece of stick pretzel into the top to create a stem. Use leaf-shaped cookie cutters to cut shapes from pie dough scraps. Bake at 350 degrees F until golden. Let cool and garnish cake.
Related Posts via Categories